Scarborough - The Best Sunset Watching Spot in Cape Town
One of the best spots in the Cape Peninsula is the less visited and often overlooked is a small residential town, Scarborough. This little residential area is surrounded by a conserved natural landscape and offers many stunning views of tall standing mountains and the ocean. It also boasts its own well -conserved white sandy Scarborough Beach. The beach is never crowded and even in summer when many people visit the beach, it remains well-populated and comfortable enough for you to enjoy a day on the beach. Scarborough Beach is famous for its notorious sunsets and we would not deny being biased to the fact that it is the best spot in Cape Town to watch the sunset from. The sunsets can be enjoyed from afar, on the shores, or, if the tides are not too strong, on the beautiful large boulders more closer to the water. If you are not up to sitting, the shoreline is long enough to stroll along too, until the sun goes down. 
Scarborough Beach, however, not only boasts the beautiful and romantic sunsets, it is often frequented by keen surfers as it offers beast waves that are always intriguing for surfers. Your kids will especially love the dotted rock pools in which they can play and swim safely. Dogs on a leash are also allowed on the beach, and that way, you do not have to leave your pups at home, wondering where you are all day.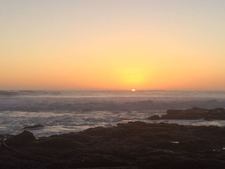 If you embark on our Cape Peninsula Tour, be sure to end off your day here and take pleasure in seeing the sun meet what seems to be the edge of the ocean until it eventually sets. If you would like to book your Cape Peninsula Tour, contact us and we will ensure you get the most of your holiday in Cape Town.